Summer camp theme ideas and fun camp activities for kids
Summer camps are a great way for kids to have fun and create nice memories. With various summer camp activities, children can develop their skills and explore new things. Also, they can enjoy the educational holiday period and make new friends.
Also, every working parent has the same nightmare after their kids finish school. The main reason and fear is that children can spend the whole day in front of a screen and the internet. This is why summer centers are the best idea to get out of this situation.
As a summer camp manager, you have a huge responsibility to make the children's holiday more fun and instructive. From this concern, we are here with summer camp theme ideas that liven up kids' holidays.
Summer center activities for children aged 0-3 years – Toddlers
Water games for children
Spray Bottle Art
Finger Painting Fun
Water games for children
5 Little Ducks Activity is the best water game for Toddlers. Sing the 5 Little Ducks song and create a fun atmosphere. It is also easy to set up, and babies enjoy it. Colour Mixing Water Play, Water Balloon Tennis, and Sponge Water Bombs are good Water games for children. It will give a refreshing mood for kids in the hot summer. Furthermore, these games help kids to explore new things, smells, and textures of nature.
Spray Bottle Art
Spray Bottle Art is an engaging and colour learning fun game for babies and Toddlers. Take spray bottles and different colours to arrange the fun game. Children can create art, colour their toys, and make paintings on big paper.
Also, you can make it more fun by adding a spice of science. Its name is Squirt Gun Science game, and you can make it using baking soda, vinegar, and spray bottles. Also, you need a measurement cup or bowl, food clours, protective eyewear, and squirt guns.
To make Squirt Gun Science games with water guns:
Gather your materials
Add colour dots on the pan
Cover it with baking soda
Fill squirt guns with vinegar.
Wear protective glass and go on.
Finger Painting Fun
Finger painting games are most loved by children of every age. It helps children develop sensitivity, creativity, and self esteem. You can make the colour by yourself with water, cornstarch, and a few drops of food coloring. Kids can make:
Fingerprint Snowmen
Perfect Rainbows
Footprint Rocket
Handprint Duck and Chicks
Fingerprint Fall Tree
Activities Summer centers 3-6 years – pre-school
Science and Technology
Art and Crafts
Adventure Camp
Bubble Fun
Science and Technology
Make learning fun at summer camp with science and technology games. It will encourage children to use their brains in science. There are many experiments you can divide it into by age. The most popular and exciting experiments are:
Solar Oven Cooking
Volcanoes
Alka Seltzer Rockets
Shaving Foam Rain Clouds
Rainbow Science Activities
Squirt Gun Science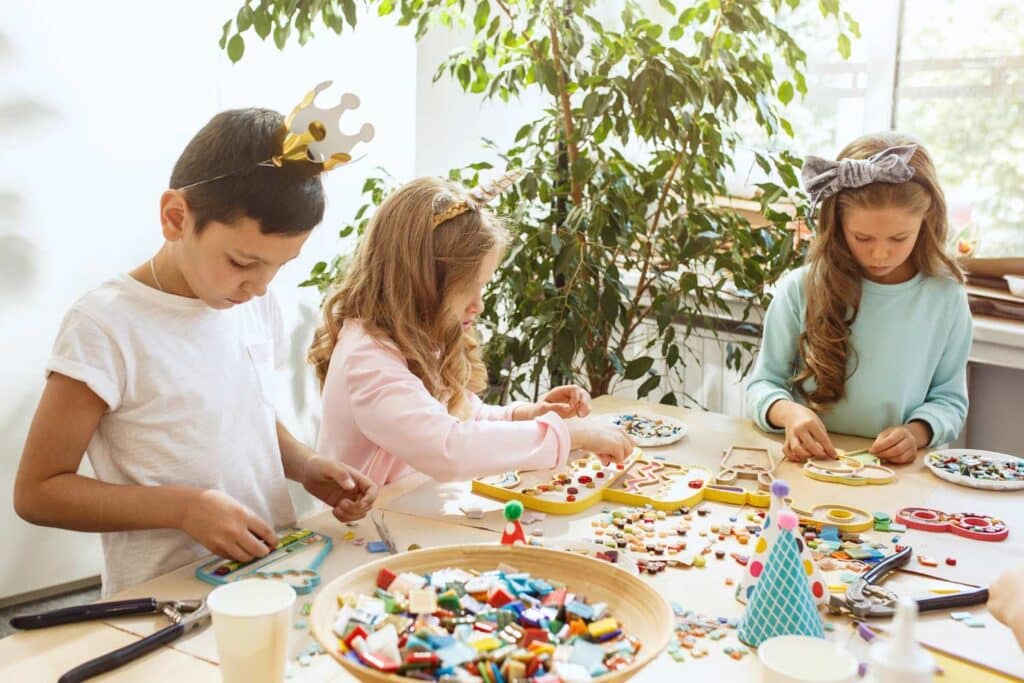 Arts and Crafts
Arts and Crafts is the most favorite game of children. They like it not only for summer camp play but also at home. Even every age of kids loved to do Arts and Crafts. You can arrange the Arts and Crafts week with:
Puffy Paint Art
Foil Painting
Salt Painting
Ice Paints
Boat Crafts
Flip-Flop Craft
Plate Crab Craft
Sponge Balls
Painting Rocks
Splat Art Butterfly
Rocking Sailboat Craft
Adventure Camp
Kids love to do adventurous things, explore the world, and experiment. You can arrange an Adventure Camp week to make the summer camp more enjoyable. You can arrange:
Adventureland
Haunted Camp
Junkyard Wars
Campfires
Camp Magic
Water Park
Outdoor Explorers
Superheroes and Villains
Nature Scavenger Hunt
Life-Sized Board Games
Bubble Fun game theme
Bubble fun is the most exciting and enjoyable game that kids love to play not only in summer camps but all vacations. And the interesting thing is that not only children but also adults love this water bubble game. This is the most guaranteed cool down fun game of the summer. For children, you can arrange water bubble fun games like:
Bubble colour shots
Bubble Wands
Balloon Games
Painting with bubbles
Summer games for children – school age 6-11 years
Talent Show
Tie-Dying
Swimming Practice or competitions
Hiking and Climbing
Talent Show Theme ideas for summer camp
Engage children to show their talent by creating a show like "My Camp Got Talent." Every child has a unique talent, and camp is the best opportunity to show them in front of friends and family. From magic tricks to dance, every talent is appreciable. They can demonstrate their talents such as:
Magic tricks
Dance
Singing
Perform a Circus Act
Jump Rope
Puppet Show
Recite a Poem
Painting and much more.
We need to encourage them to find their talents and perform them. You can give them a small gift. It will make them bold and engage them to explore their talents better.
Tie-Dying
Tie-dying is a must do summer activity for children. It has a huge benefit that children can create memories of summer camp. You can get tie-dye kits on Amazon that are less messy and time saving from handmade. This craft works best with cotton and natural materials. You can try these crafts on shoes, socks, towels, a t-shirt, a headband, and more.
Swimming Practice or competitions
You can organize swimming competitions for those who know swimming to make the camp more adventurous. It also has many health benefits. And organize swim practice weeks for kids who are just learning. But remember safety because safety is your first duty.
Hiking and Climbing
The most wanted summer camp activities are hiking and climbing. Group hikes are the easiest way to get outside and do an activity. It engages children in teamwork and builds trust. Find a kid-friendly hike and ensure safety. Also, you can arrange tree climbing, rock climbing, bridge swing, climbing wall, and more. It will be fun!
Other Summer camp theme ideas 2023
Parachute Games for Child
Diy Wooden Boat
Food Pyramid Games
Storytelling Games
Water Balloon DodgeBall
Tie-Dying
Indoor Games
Build a Campfire
Leaf Crown
Crayon Rubbing Art
Diy Pizzas
Learning Density with Rainbow Jars
Laboratories Ideas for Summer Centers
Cooking Shows